Hands down one of my favorite locations for people watching, restaurants, and even bar hopping is The Cosmopolitan complex. From the three-story chandelier to the epic decorations, and even a few speakeasies onsite, it is a guaranteed fun night anytime I am in Las Vegas.
On the third floor of the Cosmopolitan follow the hallway next to the main ballroom to the shopping complex. The first restaurant on your left is Blue Ribbon.
One of the better dinner locations in the Cosmo complex, the menu is fantastic and the prices for location are reasonable for the fare. The innocuous hallway next to Blue Ribbon is "Secret Pizza" one of the many hidden speakeasy locations in the Cosmo and one of the best slices of pizza on the strip hands down. Now for the goods.
The Blue Ribbon Mai-Tai is best prepared by Mixologist extraordinaire "Justin." He is a great guy with a fantastic pour to his drinks and a great attitude behind the bar despite our large group size.
Mixologist: Justin
Rating: 3/5
Price:  $18
Presentation: Served in a knurled cup with hard cubed bar ice and garnished with a lime.
Flavor Profile: Liquor level was a nice heavy pour, delicious on all levels not too sweet and zero acidic post-flavors.
Just a short trip down the escalator to the second floor of the Cosmopolitan near the club known as "Opium" you will find the Spiegelworld theme bar Ski Lodge, and the adjoining restaurant "Superfrico".
Ski Lodge is exactly what it sounds like. It is a bar themed on the classic concept of a ski lodge. Everything from log cabin surroundings to extra cozy nooks and corners. They even have actors running around telling ski stories in full on ski gear. It is an experience in and of itself. The Mai-Tai was tame, as I suppose you'd expect in a ski lodge, as opposed to a cold weather drink.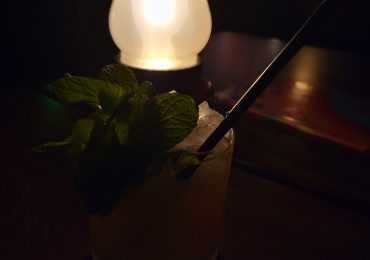 Rating: 3/5
Price: $17
Presentation: Served in a small rocks glass over crushed ice and garnished with mint.
Flavor Profile: A pleasant overall sweetness to rum ratio, good amount of dark rum and no acidic aftertaste when drinking.
A Spiegelworld restaurant, Superfrico is second to none, and an experience I recommend anyone visiting Las Vegas have! The food is nothing short of amazing and about every ten minutes there is a wandering act that will fully enthrall you. From juggling, to magic, and even cabaret. The show is non-stop.
Add to that the drinks from the main bar, which are not only good, but reasonably priced for such a themed entertainment-based restaurant.
Rating 3.5/5
Price: $17
Presentation: tall glass with crushed Ice, garnished with mint.
Flavor: great liquor pour with an oddly satisfying dry quality, not over sweet and a perfect flavor profile.
There are numerous other bars in the Cosmopolitan complex that we will of course be covering in later upcoming editions of Oh My Mai-Tai Las Vegas coverage. I am in Vegas a few times a year and it is truly a good Mai-Tai city if you know where to look.
Stay tuned for more Mai-Tai adventures, recipes and more from Oh My Mai-Tai, and until next time, see you at the Tiki bar!